Well, as the teller reminded me at the bank this afternoon, my birthday is coming up soon. I'm not going to tell you when it is. Just that… there will be a lot of parties that day for another reason. A sporty reason. Anyway, my husband and I agreed not to do birthday presents this year (his is this weekend) because we will be going on this:
 …to celebrate our one-year wedding anniversary. (It's the Disney Magic Cruise ship that will be sailing out of NYC for the first [and last time].) I'd say it's a pretty awesome trade-off, don't you think? But in the spirit of birthdays and the steady addiction I have to buying books lately, I thought I would concoct a fun wish list anyway. Just to make myself feel better, of course. So here it goes:
 1. I'm a huge musical theater fan. In fact, one of my best friends and I just went to Stephen Sondheim (Sweeney Todd/Company) and Tony Kushner (Angels in America) lecture on Tuesday night. It was pretty damn amazing. Sondheim recently came out with the second volume to his "memoir/ notes" collection called Look I Made a Hat (it's part of an awesome lyric from Sunday in the Park with George.) The friend I just mentioned was nice enough to gift me the first one for Christmas, but because I'm greedy (and love the pink cover!) I'm in need of the second.

2. The Jessica Darling series in its entirety. If anyone knows a fabulous birthday genie, ask them if they can have a box set of this series created. You can order them all together as an eBook but I physically need these in my collection. I read them the first time last year and a must-read is definitely needed. Soon.
3. If you read us pretty often, you know that Magan and I are huge Stephanie Perkins fans. I don't have to go into much explanation why I would love a hardcover copy of Lola and the Boy Next Door. I already have the book on my Nook but… it would just look so pretty in the bookcase we recently "stole" (borrowed) from my in-laws.
4. Something Borrowed on Blu-Ray. As my friends, Michelle & Rachel, can attest, I was not very happy with this film version of the book (by Emily Giffin). Because I love the book. Like love it in an unhealthy way. I won't tell you I started rereading this last week and just skipped ahead to the parts that made my heart get all swoony. Because I most definitely did not do that. (I did. I did.) Rachel (not the main character) ended up seeing it again and said it was better that time around. I still have not had the pleasure of doing that and I think it would make one kick-ass blog post when I finally do.
5. I may be cheating with this one, but my best friend from number 1 discovered this etsy shop, JezebelCharms, last week and I've been lusting over quite a few of its items since. Most especially, this necklace with a Louisa May Alcott quote. (I think that it is necessary in every bookworm's wardrobe.) I also loved the bangles!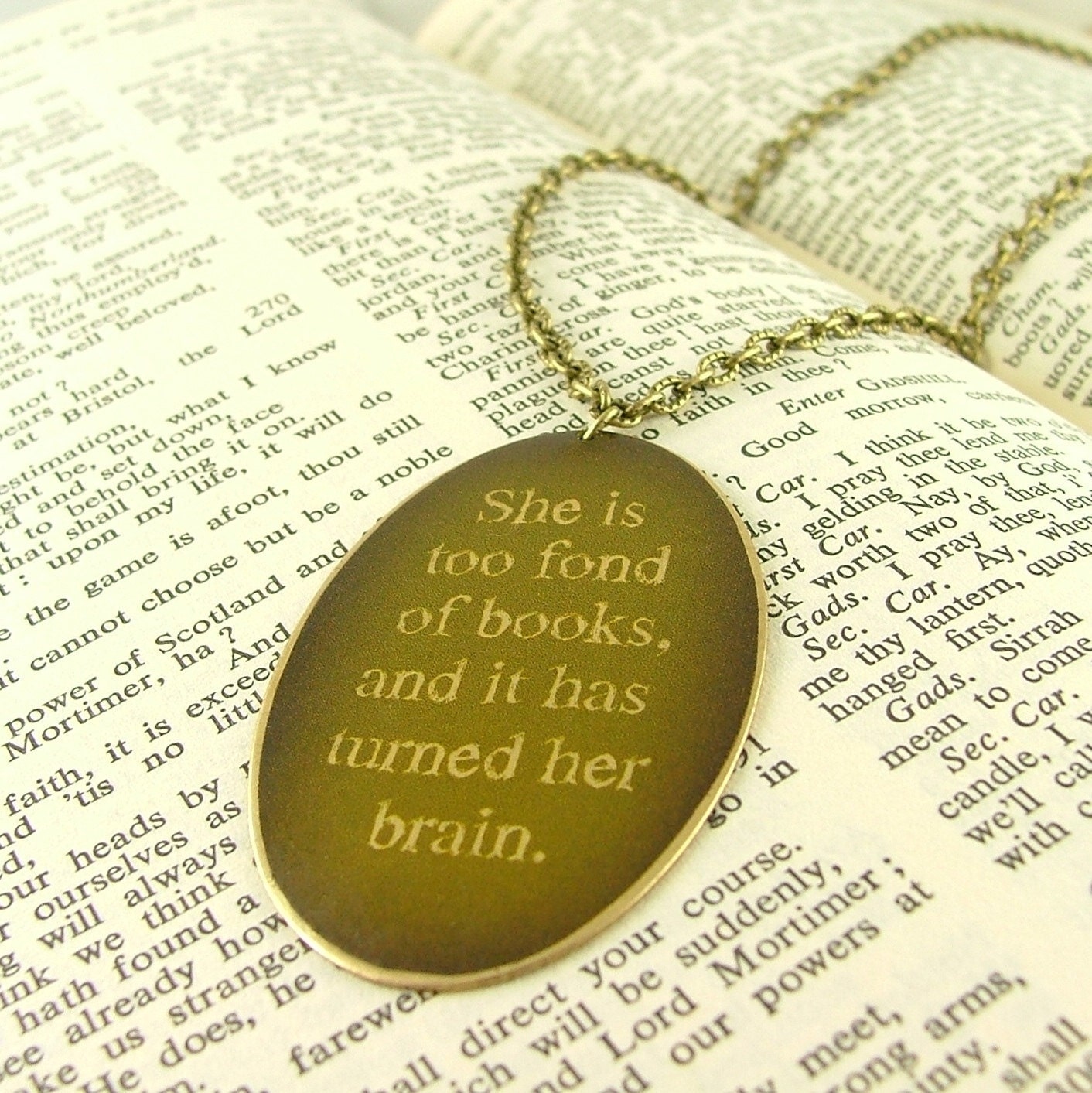 Anyone else have a birthday coming up? Even if you don't, anything you are just dying to buy? (I'm in the middle of a clothing freeze. This is Day 19 of too many and I'm feeling antsy! Make me feel better!)
P.S. Need more ideas? I hate flowers, love dark chocolate, could always use a Nook gift card, wear a size S in tops, and I'm a huge fan of anything Muppety.
Speaking of Muppety…