Estelle and I crossed the six-month blogging hurdle in May. How have six months already flown by? Oh, the books we've read and the people we've met. Everything about being a book blogger is pretty flippin' fantastic. There are a couple reasons for today's post.
We want to:
– reflect on the bookish resolutions we made for this year to re-motivate ourselves.
– do a little dance and celebrate our six (well, technically almost seven) month blogoversary with you guys.
– share our favorite books that we've read so far this year. That means we're doing a GIVEAWAY. It is summertime, after all, and we want you guys to have the chance to take some of our favorites with you to the beach! That's how this all ties into our Sweet Summertime Reads feature we're doing with Ginger and Tara. Check out the end of this post to enter our super fantastic giveaway!
resolution accountability.
MAGAN:
Read 115 books this year. I'm currently 3 books behind the pace I should be reading, but I am about to go on vacation and am prepped with lots of books. I am not changing my goal, though I am nervous to be slacking. I dislike that I feel like I'm playing catch up. Estelle has been encouraging me to just keep pushing toward 115. I CAN DO THIS. (hopefully)

Read at least one book/month from my shelves. When I wrote this last year, I wasn't planning on attending book conferences. I've since gone to two (TLA and ALA) where I've gotten wonderful books. Considering those have been added to my shelves, I've been doing well with reading through those. I've read books I bought last year, too, but I haven't tackled my old, old books.
Pass along books I no longer want to own. I've done a few twitter giveaways of books I didn't want to keep. I have a stack of books currently waiting to be taken to a children's home. I am feeling better about decluttering my shelves, but there's still room for improvement here.
Don't get caught up in a schedule and quit reading for me. Hmm.  Reading has not lost its appeal, but I do feel like during March and April, my life got chaotic and I couldn't read nearly as much as I wanted to. I felt more selective about the books I was picking up and tried to be mindful of the review books I'd received. I never once felt overwhelmed by blogging, but I did feel let down by some of the books I had been amped to read. Though it wasn't a scheduling issue, per say, it was something that really brought me down. Don't worry – I'm back on the upswing of things and life is calm(er) now.
Participate in book swaps. Thanks to the conferences I've attended and social media, I've met some amazing bloggers who have been generous enough to lend me books. I have also tried to send books out to other bloggers. I'm hoping this continues and I can be as generous as others have been to me.
Have at least one author listed for every letter of the alphabet on our list of reviewed books. Well, we only have 7 open letters, so I'd say we're making progress. Does anyone know GOOD books written by authors with the last names starting with Q, U, X, Y, Z? Help!
Become a better writer. Well, I'd say this is pretty hard to quantify, but I am trying pretty darn hard to do this. I keep a notebook with all my thoughts and feelings while I'm reading so I can look back at that when I'm writing. One issue I wrote about was wanting to be able to write negative reviews. I've had to write a few this year (with a few more coming up) and while that's never a great feeling, I believe it's necessary. My hope is that you'll find my reviews to be thoughtful, honest, and valid because I am willing to share the good and the bad.
ESTELLE:
 1. Read 100 books again. Well I've been on the road to reading 100 books so after some convincing from Magan, I decided to up my book goal to 120. I'm on some kind of a roll it seems!

2. On the other hand… I have not read 6 classics. I have not read even 1. But the good news is since I'm on my way to completing my first goal, I can buy time to read the classics and have the time to concentrate on them. I don't expect to breeze through them… which is probably why I haven't read one yet. Ugh. Must. Get. On. That.
3.  Thanks to my genius husband, I have gotten into the habit of taking notes on my books just like I wanted to do. He bought me this Book Lover's Journal for Christmas. It's small enough to throw in my purse and I've been pretty good at keeping consistent notes!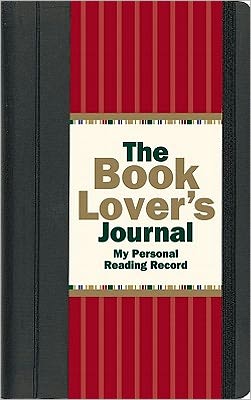 It has been easier to write my reviews when I get behind. Which I still do. As I write this, I'm six books behind on reviews. Boo. But hey, notes make it easier and sometimes it's easier for me to pick up a book instead of writing a review right after I'm finished.
4. Â Because I've been reading so much (and even though I'm six reviews behind), I'm already scheduling book reviews for July which leads to…
5. Balancing my time better! I'm not always on the computer. I don't always have to read a book that needs to be reviewed. And I'm going to the gym more. So this is working!
6. FAIL. I fail in every way in not buying books. I blame the authors. Stop writing awesome books. (Just kidding.) I need to really take a break this summer in purchasing anything. I have a ton of books from NetGalley that need to be read and years worth of books that have been making a home on my bookshelf.
7. I wanted to start writing my own young adult book. I've written a bit. Nothing book-like. I just need time. And that feels like a major excuse right now. I'm still hoping in the next six months I will have something to show for it. (Whether it's good, that's another story.)
our half year favorites.
ESTELLE:
MAGAN:
a summer book giveaway.
We will be giving away three books to one lucky person. Enter to win by choosing which three books you'd like from our lists above and let us know what they are in the comments below. Don't forget to click ENTER on the Rafflecopter widget below!
Rules and Regulations: US entries only. Giveaway ends on June 15th. Winner will be emailed and here!