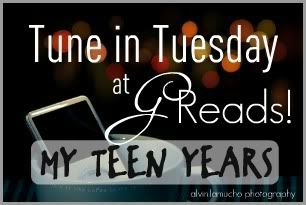 Good morning! It's time for another trip into my musical teenage canon with Tune in Tuesday! I'm really enjoying this meme that Ginger of GReadsBooks has organized and I hope that you are too! It's been very therapeutic and just funny what the mind remembers!
Since I'm being all open about my disasterious love triangles, here's a fun one. The crazy time when I had a major crush on my boss at work and he had a crazy girlfriend who hated me just because I worked in the same store. That's just the innocent part of the story too.
After working together for a few months and growing closer because of this crazy girlfriend and her "weird" beliefs as to what was NOTÂ going on, we started making mixed CDs for one another. I was totally trying to throw all the feelings I could not say onto these tapes as non-chalantly as possible. Like, hey! I'm a girl and I totally love sappy songs so this has ABSOLUTELY NOTHING to do with you. I promise. (But it has everything to do with you!)
And you'll see from the handful I chose to share with you, he was definitely doing the same thing.
Anyway, even though this all happened almost 10 years ago (UGH), and we are both happily married people, we still talk about those mixtapes and I listen to quite a bit of the songs still. (I know he still listens to my Christmas mixes… because, let me tell you, they are pretty stinkin awesome!)
Here are a few of the songs he introduced me to:

Sugarcult – Pretty Girl
The Starting Line – Best of Me
Darren Hayes – Insatiable (He's from Savage Garden!)
Boyz II Men – Oh Well
Kristian Leontiou – Shining
Don't some of these just make you want to swoon? I'm glad I can listen to them now and not feel so sad anymore.
P.S. Yes, I was obsessed with boys.